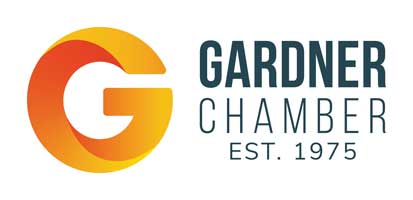 Position Summary
The President & CEO of the Gardner Chamber of Commerce has overall responsibility for
the complete operation of the Chamber working under the policy guidelines and direction
of the Board of Directors and Executive Committee. The President & CEO is responsible for
carrying out a full range of activities including:
Coordination of annual program of work
Execution of events
Development of membership services
Training and supervision of staff
Implementation of policies and procedures enacted by the Board
Long-range planning
Building and maintaining meaningful relationships with community partners
Representing the organization in the community
Responsibilities
Membership
Assure that a membership plan/structure is in place, including recruitment and retention. Become familiar with member businesses, their goals, and their difficulties.
Seek out solutions and develop appropriate services to support members and the general business community. Maintain oversight of database of members and all businesses in the community.
Events/Programs
Coordinate a wide range of programs and events that have an impact on businesses (large & small) and the community. Ensure that programs/events generate sufficient revenue to support themselves (and Chamber operations) when possible.
Marketing & Communications
Maintain a high level of internal communication with the Chamber Board of Directors, Chamber Ambassadors, volunteers, and committees.
Plan and execute a marketing and communications plan to ensure that members, the business community as a whole, and residents, are aware of what is happening with the Chamber and in the business community. Utilize print and digital (web, social media, email) to inform all stakeholders to promote the Chamber and its
members to other businesses and residents. Oversee the publication of the annual GE Magazine.
Economic Development/Tourism
Support the City of Gardner and Southwest Johnson County EDC in their goals to grow the community through economic development, specifically by working to target, attract, locate, and support small businesses in the City of Gardner.
Maintain statistics and familiarity with the economy in the area and provide those resources to potential businesses.
Work with tourism-oriented businesses in and around Gardner to attract visitors and increase economic spending in the community.
Support activities and initiatives of the City of Gardner's Transient Guest Tax Committee.
Community Relationships
Cultivate relationships with the City of Gardner, USD 231, county, state, and federal governmental entities, elected officials, and staff.
Coordinate activities outlined in the contract with the City of Gardner.
Staff & Volunteer Management
Oversee all staff activities of the Gardner Chamber including the hiring and termination of employees. Assure that staff has adequate training and supervision and provide opportunities for staff to grow professionally. Create working conditions that are conducive to maximum performance and employee morale.
Administration
Prepare monthly reports to the Executive Committee and Board of Directors, including membership, programs/events, and finances.
Prepare and implement an annual budget for the Gardner Chamber and coordinate expenditures consistent with the budget.
Oversee general office activities.
Work with the Executive Committee to identify potential new board members and coordinate the process of bringing them on board.
Champion the mission of the Chamber. Work with the board to revisit and revise as necessary the mission of the organization. Coordinate with the Executive Committee an annual meeting to discuss and adopt an annual program of work.
Update internal documents, policies, and procedures on a regular basis.
Assures the organization's compliance with applicable laws and regulations. Maintains organizational records.
Leadership
Demonstrate leadership by active involvement and participation in the community.
Strive to develop a better public understanding of the purpose of the Chamber.
Represent the Chamber at appropriate local, regional, statewide and national events.
Preferred Experience:
A minimum of five years of successful experience in executive management and leadership positions within the private, public or nonprofit sectors demonstrating progressively greater responsibility
Understanding of chambers of commerce, trade associations, and the business community.
Thorough knowledge of finance, community economics, planning, and organization management as evidenced by appropriate experience.
Excellent communication skills and strong public speaking ability.
Knowledge and awareness of Johnson County, specifically Gardner, Edgerton, New Century, and the surrounding area.
Education:
Bachelor's (preferred)
US Chamber Institute Graduate (preferred)
Job Type:
Benefits:
Flexible work environment
Health, Technology & Mileage allowance
PTO
Salary: $60,000-65,000 DOE
Application deadline: Monday, April 11 th
To apply: Email letter and resume to [email protected]
About the Chamber…
The Gardner Chamber of Commerce was founded in 1975 to serve the business community of Gardner and the surrounding area. In 2014 the board uncovered some irregularities with Chamber operations. The Chamber worked hard to repair its finances and relationships in the community. Since that time, the Chamber has grown significantly, doubling membership (approx. 250) and it's budget (now over $200,000). The Chamber has a unique "inclusive" model that encourages involvement by the entire business community, not just those that are paying members. In practice, this means that every new business in the community is welcomed with a ribbon-cutting upon request (co-hosted by the City of Gardner), that non-members are welcome at virtually all Chamber events, and that all businesses are listed in the Chamber's online business directory, among other things. This has created a culture that celebrates business success above all else, knowing that when businesses succeed the Chamber benefits as well.
Other highlights include:
Hiring of a 1/2-time staff member and a ¾-time staff member, in addition to
seasonal interns when possible
Annual contract for services with the City of Gardner
Successful, professional rebranding of the organization to the Gardner
Chamber of Commerce (completed in 2021)
4-time qualifier for ACCE's Chamber of the Year award based on various
metrics
Implementation of a new tiered dues structure in 2015